Amston Lake
An Exploration by Christi Geisinger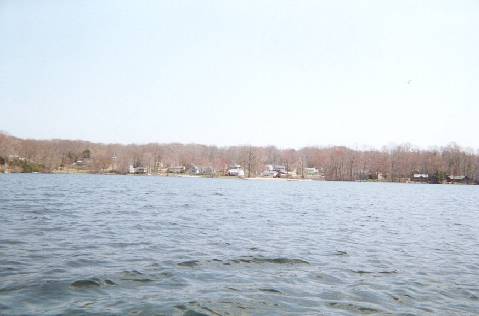 Amston Lake in Amston, Connecticut
Amston Lake is located off Route-85 towards Colchester, CT. Chief Uncas was the first to discover Amston Lake and it stayed with the Indian tribe until 1876. The towns of Lebanon and Amston border this 186-acre body of water. Amston Lake is restricted to tax paying residents of the Amston Lake community. The residence of Hebron and Lebanon own exclusive rights to Amston Lake, the mortgage of Amston Lake was paid in full to the descendents of Chief Uncas in 1998. Amston Lake is second cleanest body of water in the State of Connecticut, the water testing we did on 4/22/01 was tested at a depth of twenty-six feet.
Amston Lake waters are tested three to four times a year.
Water Testing on 4/22/01
Step One: Secchi Depth Testing (measures the clarity of the water)
For my report, the clarity of Amston Lake water is at 24 feet in depth. At 21 feet, the clarity of the water starting showing light green tinge. Yet still we can continued the test until 24 feet clarity depth.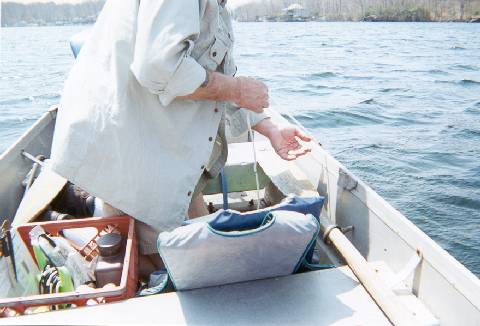 Purpose of this test:
The clearer the water the more light can infiltrate through it to hold plants on the bottom of the lake. Plants generate oxygen, which stabilizes the bottom of the lake to prevent nutrient mixing. The more plants there are at the bottom of the lake the better stability of the ecosystem to stop the release of phosphorous.
Step Two: Meter Testing and Dissolved Oxygen (Water-sampling)
Amston Lake was tested at the following depths:
1 meter

Bottles

Keep in Fridge

3 meters

6 meters

7 meters

Test Tube
(Add to Algae preservation) --- to keep Algae plankton alive until tested
Purpose of this Test:
Check the water column all the way down to meter settings for Algae, Zooplankton and other various bacteria. Electronic meter testing recorded oxygen levels, temperature, at depths of 0.5 - 7 meters.
Here is the data I recorded with the collectors Darlene Hollister and Reggie Miles for Amston Lake.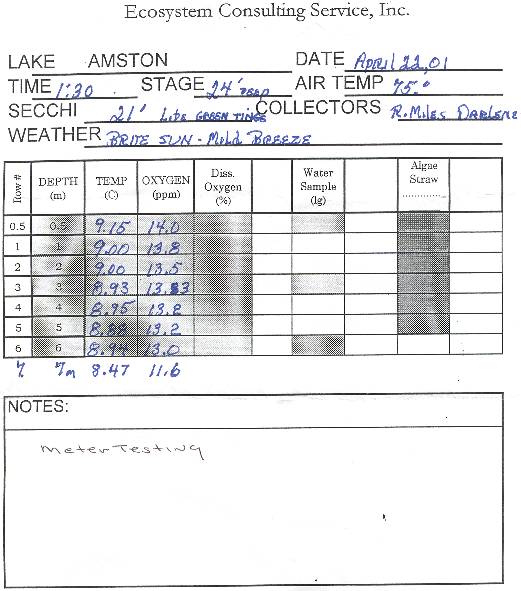 Submitted to and posted by Anthony Benoit
May 15, 2001
Top | Back | Explorations | ENV 1100