An exploration by Kelli Russell

January 3, 2002

This is an interview with a local lobsterman explaining a little bit about life on the ocean.

Q. You are a lobsterman that fishes in the Sound and in the Thames River, correct?

A. Yes, and Fishers Island also.

Q. Are you concerned with the pending law that would not allow CT lobstermen to have more than 300 traps in Fishers Island waters?

A. Yes, because (CT) we are commercial fishermen, and have the same license as the Fishers Island lobstermen to fish. The lobsters are more abundant in Fishers Island which we have been allowed to fish for as long as I can remember.

Q. Do you feel that the Fishers Island lobstermen are trying to preserve the lobsters as they claim?

A. No, they will keep every lobster they catch, and therefore driven by greed. Lobsters are a natural resource.

Q. True, but any natural resource can become depleted.

A. The records show that they are more plentiful now than ever, except in the mid-western part of the Sound due to an unfounded shell disease that is killing off the stock of lobsters inside the Sound.

Q. Have you witnessed any lobsters with this shell disease?

A. Yes, I would say about one in every fifty lobsters I come in contact with have shell rot.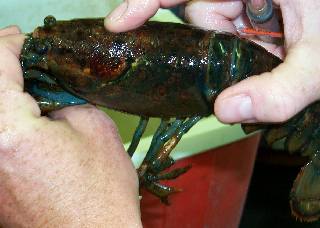 A lobster with soft shell disease at the Millstone Environmental Laboratory
Q. What are your daily experiences like as a lobsterman?
A. Every day is different on the ocean. I have been out there for over thirty years and no two days have ever been the same. Before traveling out onto the ocean, you must take into account the different tides (high/low) and the different phases of the moon which greatly affect the tides. For example, the three days before and after a full moon, the tide has strong rip currents that make lobstering difficult, and the lobsters stagnant. The tide changes every six hours and slackens for only a half an hour in between the changing. Sometimes during a full moon tide it does not seem not slack at all. Of course it does, but the time is shorter than thirty minutes. The full moon tide also pulls the buoy under water for the whole duration of the tide, until it slackens for a half an hour or less, which means your time is limited in pulling your pots.
Q. How do you keep the lobsters alive when bringing them to shore?
A. Lobsters are very fragile creatures out of their natural habitat. You keep the lobsters alive by constantly oxygenating the water in the holding tank.
Q. Have the lobsters ever been stolen out of your pots?
A. A major problem in the lobstering business that you have to worry about is the poachers. Yes, not only have I had the lobsters stolen, but theft of my pot as well by other lobstermen or recreational fishermen. It is aggravating because lobstering is very time consuming. I catch my own fish to bait the pots with, and pull them up manually. Lobstering is my livelihood and to have them stolen out from under me is just treacherous and detrimental to my welfare.
Q. Do you feel fulfilled as a lobstermen?
A. Yes I do. Most lobstermen such as myself, would not trade all the amazing sights such as whales, dolphins, seaturtles, sunset/sunrise, and all the amazing sea life for any other kind of life.
Q. Thank you for the interview, good luck on the ocean.
A. You're welcome… Fish on!
---
Top | Back | Explorations | ENV 1100
---
Submitted to and posted by Anthony Benoit
January 3, 2002