---
Course Outline | Psych I | EnvironmentalET
---
top)
Many reasons have been proposed or observed:

instinct
drives
excitement (arousal)
goals (incentives)
achievement
power
friendship (affiliation)
self-fulfillment

Psychologists define motivation as the internal and external factors that cause and direct behavior.

As a psychological concept, "motive" is proposed as a unifying link between stimuli and behavior
Motives can be divided into four categories:

biological
emotional
cognitive
social
top)
Biological explanations

Instinct theory (early 20th century, eg McDougall, 1908)

Some of the first theories of motivation attributed behavior to instincts, in-born patterns of behavior.
One scheme from the 1920's listed the following instincts in humans:
| | | | | |
| --- | --- | --- | --- | --- |
| acquisitiveness | escape | mating | rivalry | submission |
| cleanliness | fear | modesty | secretiveness | sympathy |
| combativeness | food-seeking | parental love | self-assertion | |
| constructiveness | hunting | play | shyness | |
| curiosity | jealousy | repulsion | sociability | |
The lists of instincts grew longer and longer as psychologists tried to explain the huge variety and complexity of human behavior.
By the 1930's, instinct had fallen out of favor in part due to the behaviorists emphasis on the importance of environmental stimuli.

If every separate behavior is governed by its own instinct, the instinct explains little.
The complexity and variety of behavior along with the undeniable role of learning and other environmental factors were taken as arguments against instinct theory.

Ethologists such as Konrad Lorenz continued to explore the notion of instincts in non-human animals.

Young geese will follow the first moving thing that they see after hatching, a phenomenon known a imprinting.
Some prefer the term "fixed action pattern" or "species-specific behavior."
If we define instinct as an inherited behavior that is exactly the same among all members of a species, human insticts are few or none.
A more useful definition emerged in the 1950's: An instinct is an adaptive pattern of behavior formed by an interaction of genetics and ordinary developmental processes. An instinct is not invariant, but is widespread and similar among members of a species.

More recently, cognitive and evolutionary psychologists have given instincts a new life.

Like any other species-typical trait, instincts do not have to be expressed at birth.

Depth perception is lacking in newborns but it reliably develops as a child grows.
Chomsky has made a strong case that language is instinctive in humans.

Plotkin described developmental studies that looked at how human infants tend to look at human faces more than other things in their world.

There does not seem to be a facial recognition instinct in quite the way the psychologists of 1900 would have liked.
But something interesting does happen:

Initially, infants prefer symmetrical patterns and strong horizontal contrasts.
A very common horizontal line in the infants' world is their mothers' hairline or brow. Gazing at this, by eight to nine weeks, they are making eye contact.
By 14 to 16 weeks, infants will smile when they see any face.
There is clearly a developmental component to this process. An newborn who never saw a face might not smile at them later. But this seems reminiscent of imprinting by geese.

The facial expression (and possibly recognition) of emotion does appear to be instintive (see page 397 in Bernstein).
The statement on page 360 about a "desire to pass our genes on" is misleading.

If there is such a desire, it readily takes back seat to many others. Our instincts in the area of mating do not have to feel like a desire to reproduce (most people would describe them as "attraction," "desire," "lust," or something else). Rather, any instinct which increased reproduction in our ancestors will be more likely to be part of our genetic heritage.

Culture and learning are often cited as alternatives to instinct, but they are not. If we do not define instinct as behavior which excludes learning or memory, we may just as easily possess instincts that allow humans to learn and form culture.
Primary reinforcers can be thought of as instinctively reinforcing.

Drive reduction theories (1940's and 50's)

We act so as to reduce the push exerted by drives, internal stimuli that represent biological needs.
This is reasonable to the extent that our behavior helps us to maintain homeostasis, or a steady biological state.

When some internal system is out of balance, a drive builds up to force behavior that restores balance.
For example, if you are cold, you put on a sweater or turn up the heat.

This explanation suits basic behaviors related to basic needs, such as food and water.

Sexual behavior is often thought of in terms of a "sex drive," but there is certainly no physiological need for an individual organism to have sex.
Many behaviors have no clear biological function (why are you sitting here now?)

We can build this theory up a bit by proposing the existence of primary and secondary drives (reminiscent of primary and secondary reinforcers).
Still, our behavior is not always consistent with our drives. You may be hungry right now, but you're not eating.
Perhaps the biggest hole in this theory is that some behaviors do not decrease internal tensions, they increase them. Thus the next theory:

Arousal theory

Arousal is a term used for a general state of physiological activation. You could think of it as the extent to which your body and mind are "revved up."
Arousal theory holds that we act so as to bring about an optimal level of arousal.

When we are too aroused (eg, hungry) we act to reduce arousal (eg, eat).
When we are not aroused enough (eg, bored), we act to increase arousal (eg, read a book).

The idea that there is an optimal level of arousal has some support from the observations underlying the Yerkes-Dodson law (Fig 11.4, p 363).

The graph of performance vs arousal is an inverted U: Performance improves with increased arousal up to a point, then it drops off.
Optimum performance on an easy task occurs at a higher level of arousal than on a difficult task.

Hence, your ability to do a menial job may actually be improved by having music on, and so forth. In contrast, a difficult task will require less distraction.

Incentive theories

Arousal theory focuses on internal stimuli. Incentive theory holds that certain external stimuli act as incentives, pulling us toward some behavior.
Incentives are pleasing external stimuli that can serve as goals toward which our behavior is directed.
Cognitive factors are thought to be important relative to incentives.

Rotter's expectancy-value theory proposes that a particular stimulus exerts a pull based on its value to us and our expectation of achieving it through some course of action.

We evaluate behavior based on: (1) What we expect the outcome to be.
And (2) the value we place on that outcome.
This theory places cognitive variables between stimulus and response. Our behavior is not influenced entirely by the history of reinforcement (as Skinner proposed). Rather, our expectation of reinforcement guides us.

There is a difference between wanting and liking:

"wanting" is the degree of attraction a stimulus holds when it is not present; "liking" is the extent of pleasure associated with the stimulus when it is experienced.
There are apparently different brain areas active in each case.
The grass is always greener: wanting seems to be more motivating than liking.

Psychological explanations

Sensation seeking

Thrill seeking may be a trait (stable, measurable personal atrribute)
Thrill seekers actually are motivated by a desire for new experiences. They do not necessarily like danger per se, but rather are simply not deterred by danger.
Thrill seekers tend to be independent free thinkers.
Thrill seekers resist authority but are not more antisocial (eg, criminal).

Competence and achievement

People motivated by a need to demonstrate competence have a desire to be capable and exercise control.
Individuals can be motivated by achievement.

Achieving a goal may be an incentive
Achievement-motivated individuals seek competition or at least comparison--interested in knowing the score.
High achievement-motivation is correlated with typical success: money, prestige, good job, etc.
High vs low achievers:




High achievers seek challenges hard enough to be interesting but easy enough to accomplish; low achiever seek sure things or things so hard that no one will expect them to succeed.
Achievement can be measured with the TAT

Self-efficacy is defined by Albert Bandura as the degree to which an individual perceives himself or herself able to meet the demands of a given situation.

Those with high self-efficacy often have a high motivation to succeed and are able to pick suitable challenges.

Maslow's hierarchy of needs

Humanist psychologist Abraham Maslow synthesized a number of different theories into a hierarchy of needs.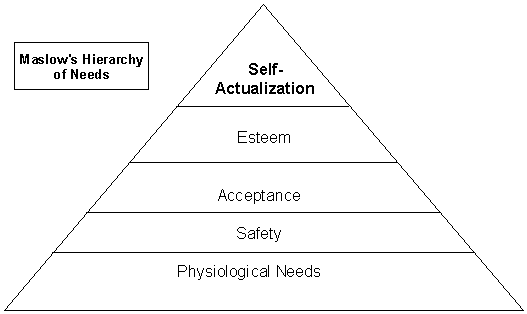 If and only if our needs at a lower level are met, we can be motivated by higher level needs.

Once we are fed, safe, loved, and accomplished, we strive to be all that we can be.

This theory is intuitively appealing, but is difficult to validate experimentally.

Maslow himself admitted that self-actualization is difficult to achieve, even difficult to define.

Employee motivation and satisfaction.

Rats and gamblers will respond vigorously to a variable ratio schedule of reinforcement; piece workers will work hard on a fixed ratio schedule. But, none of these will be particularly satisfied with their activities.

You might get relatively hard work out of someone doing menial tasks by using one of these schedules.
Such schedules are often not successful for motivating and retaining workers in positions that require planning, dedication, creativity, and so forth.
Freedom and control lead to both improved morale and higher productivity. Employees do best when they:

have input into decisions that affect them
are challenged by their work
are cross trained
are made responsible and held accountable for their work (though one without the other can be a problem)
are applauded for their efforts

Clearly defined goals that are important and meaningful to employees are most helpful in improving performance and motivation.

Note that these address higher level needs. A workplace must meet lower level needs or you can forget performance and motivation (you also might get shut down by OSHA).
top)
Let's consider the motivational factors of what might seem like a simple behavior: eating.
top)
Hunger vs satiety

Simplistically, we can say that we eat because we are hungry and we stop eating because we are satisfied.
Ultimately, eating supplies an organism with the matter and energy necessary to continue living.

Non-humans will typically eat a balanced diet with the appropriate number of calories if allowed to (not my cats, though they are warped by their proximity to humans).
Some research indicates that young children will do the same.

Many factors contribute to eating behavior.

Hunger is often accompanied by a feeling of emptiness in the stomach
There are sense receptors that indicate stretching of the stomach muscles.
As food passes from the stomach to the intestine, a hormone called cholecystokinin (CCK) is released into the blood.

CCK acts as a neurotransmitter in the brain, increasing the brains sensitivity to fullness signals and slows down the rate at which food leaves the stomach.
CCK injection or infusion with decrease the amount of food eaten at a single meal.

These stomach signals produce a lasting feeling of fullness, which tends to make us stop eating.
Nevertheless, those whose stomachs have been removed still get hungry and still get sated.

Rats which have damage to the ventromedial hypothalamus eat like crazy and gain considerable weight. Thus, the VMH has been proposed as a satiety center.

But, VMH lesioned rats tend to eat appealing foods (they will actually shun unpalatable food) and do eventually stop eating. And, they tend to stabilize at some weight well above normal.
It has been proposed that VMH damage increase "emotional" response to food. Interestingly, VMH damaged rats show increased emotional response to other stimuli such as confinement.

Rats which have damage to the lateral hypothalamus will not eat on their own and may even starve to death. The LH has thus been proposed as the hunger center.

If force-fed or if offered really yummy food, they will eventually eat and may even maintain some weight below normal.
Damage to the LH tends to decrease other drives as well.

Other brain areas, including the paraventricular nucleus and the amygdala, are also implicated in the control of hunger and the selection of foods.

Glucose is the nutrient most immediately associated with eating. Low levels of glucose are detected by the brain and tend to increase hunger. (Low glucose reduces activity in the VMH--see below).

The role of glucose is tied up with the activity of insulin.

Along with CCK, insulin is a hormone that is important in hunger and satiety. Its role is complex.

Insulin usually increases after the start of a meal (I have often started eating and thought "wow, I didn't realize how hungry I was)

Lavin et al. (1996) found that the presence of glucose in the intestine (rather than in the blood) promoted insulin-mediated feelings of satiety and reduced eating.

In most people, the pancreas secretes insulin in response to a rise in blood glucose.
Insulin increases the brain's sensitivity to CCK, thus the insulin rise after a meal contributes to satiety.
But there's more: Insulin allows glucose to enter cells from the blood stream. Thus, insulin decreases blood glucose and induces hunger.

Insulin has actually been called the "hunger hormone" because of this effect.

People can become classically conditioned to show a rise in insulin before the start of a meal (like the salivating dogs)

Insulin may rise in response to food-related stimuli (sights, smells, etc) or even in response to the thought of food.
Seeing, smelling, thinking about or talking about food can actually make you hungry.

Rodin studied the relationship between food and insulin.

People that she labeled "externals" showed the greatest response to food stimuli, including the greatest insulin response. "Non-externals" showed a lower response (and ate less).
Those with a stronger insulin response tended to maintain a higher body weight.

Leptin, a peptide hormone, is released by cells in response to fat storage.

High leptin levels decrease appetite.
There are leptin receptors in the hypothalamus.

Set-point theory holds that the hypothalamus (or other brain structure) operates like a body mass "thermostat."

When weight is above an individual's set-point, appetite is decreased. When below the set-point appetite is increased.
Most animals maintain a stable body weight, though many (including humans) will overeat when food is abundant and store the extra calories as fat as protection against future famine.

People eat more (as much as 75% more) in the presence of others.

We break bread together to establish bonds.
We might eat to be polite.
Some situations call for eating.

Our food preferences are clearly socially mediated.

Pinker has reported an interesting finding:

Disgust is a universal human emotion. Substances related to animals (flesh, excrement, secretions, etc.) are likely to be perceived as disgusting unless as a young child one is exposed to others eating the substances. Thus, in parts of Asia where dairy products are not generally eaten, ice cream is considered revolting (it's made from what??? Yuck!). This finding is makes sense when we consider that animal products and by-products are substances likely to transmit disease.

We enjoy the taste and feel of food thus become conditioned to eat it.
Although macronutrients such as protein or complex carbohydrates and even some fats do not have much taste, rats have been shown to learn what foods supply these and to consume an appropriate balance.
top)
30 million Americans (about 1 in 6 adults) are classified as obese, 20% or more over optimal body weight for their age, sex, height, and build.

Obesity increases a person risk of heart disease, high blood pressure, cancer and other serious chronic ailments.

Obesity may also affect a person's self esteem and have other psychological and social consequences.

One way to determine this is by body mass index.

The BMI is defined as a person's weight in kilograms divided by their height in meters. Or, 704 times your weight in pounds divided by the square of your height in inches.
An optimum BMI is roughly 20 to 25. Obesity is defined as a BMI of 30 or more. One source for more information is located at http://members.loop.com/~bkrentzman/obesity/bmi1.html.

Factors affecting body weight:

Ultimately, body weight is a matter of energy balance: If you consume more calories than you use, your weight will increase; consume less and weight will decrease.
Basal metabolic rate (BMR) is the term used for the energy required at rest to maintain the body.

BMR is affected by age, diet, genetics, sex, and weight.
At birth, BMR is about 50 calories per hour. It's in the low 40s for teens and decreases to less than 35 cal/h by middle age.

Keesey and Powley proposed the idea of a body weight set point.

People tend to stay close to the same weight over time.
The set point theory holds that when you weigh below your set point, you reduce your basal metabolism and have greater hunger to bring your weight back up. Likewise, when you weigh above your set point, you raise your metabolism and have less hunger.
Set point seems to be related to the number of fat cells in the body. This number is established in early childhood. Losing weight later in life decreases the size of fat cells, but not the number; hence, set point is not changed.

Causes of obesity:

Three factors have been identified by Rodin and others:

Overweight people are highly responsive to external food cues. This can be good (as well as bad). If food is harder to eat, it is less likely to be eaten. Ironically, normal weight people are willing to do more prep, etc, to eat.
Overweight people produce more insulin in response to food-related stimuli.
Overweight people maintain higher insulin levels. These two are part of a vicious circle: Higher insulin levels promote fat formation; the presence of fat leads to higher insulin levels.

Losing weight.

Obesity researchers have proposed the following for successful weight loss:

Make a lifetime commitment to changing your attitudes and behaviors toward food. Incorporate the reality that food is fuel.
Easy does it: Don't try to lose weight too fast.
Exercise: 30 minutes a day, three times a week will do. Activity burns calories, increases BMR, and makes you happier.
Practice stimulus control: Wrap leftovers so that they don't call your name. Keep the goodies out of the house altogether.
Avoid dieting: Significant reductions in caloric intake reduce your BMR and make you hungrier. The feeling of deprivation can be overwhelming and counterproductive. The vast majority of dieters put the weight back on.
Give yourself a break: You can be a wonderful person regardless of your weight. If you are happier and more relaxed, you are more likely to be successful in eating healthier.
top)
Anorexia nervosa is characterized by:

15% or more decrease below optimum weight
restricted eating
food obsession
distorted body image (anorexics describe themselves as fat even when they are wasting away to nothing)

10% of anorexics succumb to starvation, suicide or complications of undereating.
Anorexia has a genetic component; the coincidence rate in identical twins is greater than 50%.
There are clearly cultural and family factors as well. Eating disorders dramatically increase in frequency in a culture when Western TV and movies, etc, are introduced.

Bulimia is characterized by binge eating, extreme over-consumption usually of snack or junk food.

Bulimics often purge after binging by inducing vomiting or taking laxatives.
Bulimics are usually of normal or slightly higher weight.

Eating disorders are most common in young women (about 1-4%) but can occur in either sex at any age.
top)
Like so many psychological phenomena, emotion is easily recognized but hard to define.
Most theories hold that emotion is a syndrome, a complex entity with many components

Certainly it has these elements:

physiological responses (autonomic nervous system)
cognitive events
sensory input
behavioral correlates, eg, expressions of emotion

Emotions have certain characteristics:

temporary or transitory
valence or quality: we feel good or bad
to some degree passive: we don't directly choose how we feel

Most likely emotion also includes:

experience: we know what emotions feel like
learning

What good is emotion? Psychological theories suggest that emotions:

prepare us for action (eg, fear preps us to run)
shape behavior (perhaps emotion can be reinforcing)
regulate social interaction and facilitate communication (as we shall see below, emotions are probably inseparable from the communication of emotion)

Most people do not have a "poker face," and we generally find a person's emotional response to be obvious.
Knowing how someone feels will help us evaluate how they will act.
Even in today's world of cell phones and email, we still like to deal with people face to face in important matters.
top)
A visceral experience (gut reaction) is labeled as an emotional state.

We have some autonomic reaction to stimuli. We observe these physical sensations and label them as feelings.

This theory is a start but has many problems:

The visceral response may not occur quickly enough to account for sudden emotions.
Some visceral responses are not interpreted as emotions.

In 1924, Marañon reported on an experiment in which subjects were given epinephrine (adrenalin) to raise their pulse, etc. The subjects said that they felt as if they were scared, not that they were scared.

The range of emotions is apparently much broader and more complex than the range of gut reactions.

Nonetheless, recent advances in physiological measurements (eg, PET scans) suggest the physiological correlates of emotional states are more specific than once thought.

Even though James predicted that loss of bodily sensation (eg, through spinal injury) would depress emotions, this does not seem to be the case (some people report an increase in emotional intensity).

When presented with a stimulus, the thalamus activates both a physiological reaction and an emotional response. (Remember that the thalamus is a crossroads for sensory pathways).
The thalamus simultaneously signals the autonomic nervous system and the cerebral cortex.
But:

The rest of the limbic system, particularly the hypothalamus and amygdala are now known to play a role in emotional responses.
Physiological response and emotional reaction may not be simultaneous.

This is the theoretical basis of canned laughter.
A stimulus causes physiological arousal; this is considered in light of environmental and social cues. The arousal is then interpreted as an emotional state based on the cues.

In other words, the environment, particularly the behavior of other people, is used to explain the physiological state.

Events significant to one's own well-being are particularly important in determining emotional response.
The "Suproxin" experiment:

Men were given epinephrine, which causes sympathetic arousal. A confederate behaved in one of two ways: happy or angry. The subjects responded accordingly (but only when they had not been told that the drug would cause an increase in heart rate, etc).

The Dutton and Aron experiment:

Men crossing a scary suspension bridge were more attracted to a woman at the other end than men crossing a minor little bridge.

There has been considerable research inspired by this theory, and much of it has not upheld the proposal.

Emotions can occur without physiological arousal.
Physiological factors alone (eg, drug states) can cause emotions.

An extension of Schacter-Singer theory.
Cognitive appraisal of a situation is of primary importance in emotional states.
In contrast, Zajonc (pronounced "ZI-ANTS," rhymes with "science") holds that we feel first and think later. In other words, the emotional state strongly influences the cognitive appraisal.
More recently, cognitive scientists have proposed that there may be different components to our response to stimuli, but it is not productive to segregate them into cognitive vs emotional categories.
top)
Humans have many means of expressing their emotional state, without using words.

facial expressions
eye movements and eye contact
posture
non-verbal vocalizations

tone of voice
non-word sounds

Facial expressions appear to be innate.

People everywhere show six basic emotions in their faces: happiness, sadness, surprise, fear, anger, and disgust.
Even the blind and deaf smile and laugh when they are happy.

Public displays of affection, or other feelings, are governed by display rules.
The facial feed back hypothesis holds that facial expressions may be crucial to the experience of an emotional state, and may even cause emotional reactions.

Ekman found that actores moving their faces according to explicit instructions showed physiological responses appropriate to their facial expressions.
Strack found that people who held a pencil between their teeth rated cartoons funnier than those who held it between their lips.
top)
The lie detector, more appropriately called the polygraph, is based on the assumption that lying causes emotional and therefore physiological arousal.
Polygraph means "writing several things." These things include:

respiration
heart rate
blood pressure
galvanic skin response = the amount of electricity that your skin will conduct (a function of how much you are sweating)

A polygraph requires a skilled operator to be used as a lie detector.

The operator asks questions with known answers that are answered truthfully or falsely to establish the pattern of polygraph responses.
Then unknown questions are asked. Deviations from the "truth" pattern are assumed to indicate a lie.

Lie detectors can be fooled:

Drugs can be used to dampen physiological reactivity.
Internal or external stimuli can be used to alter every response, true or false (the old tack in the shoe trick).
Through biofeedback training an individual can learn to control the parameters being measured.
Polygraphs have limited legal use. They cannot be used by employers in most situations. Generally inadmissible as criminal evidence.

Some brain scans may indicate very reliable differences between truths and lies, though no one has yet devised a practical test.
---
Return to: Top | Course Outline | Psych I | EnvironmentalET
---
Anthony G Benoit abenoit@trcc.commnet.edu
(860) 885-2386
Revised